A Rational Anthem - (1998)

Ambrose Bierce
Melody by Henry Carey
originally medium voice and piano
---
My country, 'tis of thee,
Sweet land of felony,
Of thee I sing--
Land where my fathers fried
Young witches and applied
Whips to the Quaker's hide
And made him spring.

My knavish country, thee,
Land where the thief is free,
Thy laws I love;
I love thy thieving bills
That tap the people's tills;
I love thy mob whose will's
All laws above.

Let Federal employees
And rings rob all they please,
The whole year long.
Let office-holders make
Their piles and judges rake
Our coin. For Jesus' sake,
Let's all go wrong!
3 pages, circa 1' 45"
---

Ambrose Bierce
" This setting of Bierce's verse (from Black Beetles in Amber, 1882) is dedicated to pork barrel politicians, the career military and armament manufacturers regardless of race, creed, sex or party affiliation." Yes, dedicated to Republicans and Democrats alike.
Ambrose Bierce (1842-1914) was nicknamed "Bitter Bierce." An American newspaper columnist, satirist, essayist, short-story writer, and novelist, he disappeared mysteriously in the Mexican Revolution, presumed to have died in the siege of Ojinega on 11 January 1914, though many other stories of his death, including suicide at the grand Canyon, are told. Bierce is best-known for his numerous short stories collected in Tales of Soldiers and Civilians (1891), which show the influence of Poe.
In his parody of 'The Old Oaken Bucket', he wrote about his youth:
"With what anguish of mind I remember my childhood,
Recalled in the light of a knowledge since gained;
The malarious farm, the wet, fungus grown wildwood,
The chills then contracted that since have remained."
Bierce studied only a year in high school, but at the age of fifteen became a printer's apprentice on The Northern Indianan, an antislavery paper. In 1861 Bierce enlisted in the army, rising eventually to the rank of lieutenant. During the American Civil War he served until 1865 in the Union Army - an experience that was crucial for his life and career as a writer. He fought in several battles including Shiloh and the one that later provided the setting for 'Chickamauga' (1889), one of his best stories.
At Kenesaw Mountain Bierce was wounded, the bullet lodged within his skull behind his left ear. After the war Bierce served briefly as a Treasury aide in Alabama, as a topographical officer on General William B. Hazen's staff, and then settled in San Francisco, where he began his journalistic career. Bierce contributed to a number of periodicals, among others the Overland Monthly and the Californian. In 1868 he became the editor of the News-Letter and California Advertiser. His first story, 'The Haunted Valley', appeared in 1871 in the Overland Monthly.
Although Bierce was called "wicked" and "devilish", behind the misanthropic facade was a disappointed idealist, who saw a saint as "a dead sinner revised and edited", and a marriage "a community consisting of a master, a mistress, and two slaves, making in all, two." Bierce's satires have much in common with the views of Swift and Voltaire, whom he had read. His attitude to religion was worldly: "Treat things divine with marked respect - don't have anything to do with them."
From 1900 to 1913 Bierce lived and worked mainly in Washington. His sardonic and seemingly cruel epigrams and aphorisms Bierce gathered in The Cynic's Word Book (1906). When he edited his twelve-volume Collected Works (1909-1912), however, he changed the title of this work to The Devil's Dictionary, from which I, along with so many others, have chosen to quote over the years.
The setting opens quite predictably, under the well-known melody by Henry Carey, but chromatic harmonic elements darken the mood of the melody as the first verse proceeds.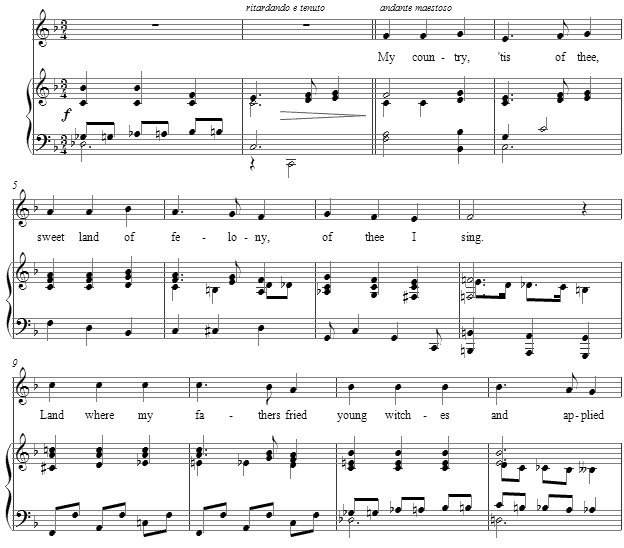 As the strophes continue along and Bierce's images further recall that violence and corruption which is a part of all human forms of governance, even in a democratic republic, the harmonic wandering also becomes more involved, convoluted and polytonal, as harmony strives against clashing harmony.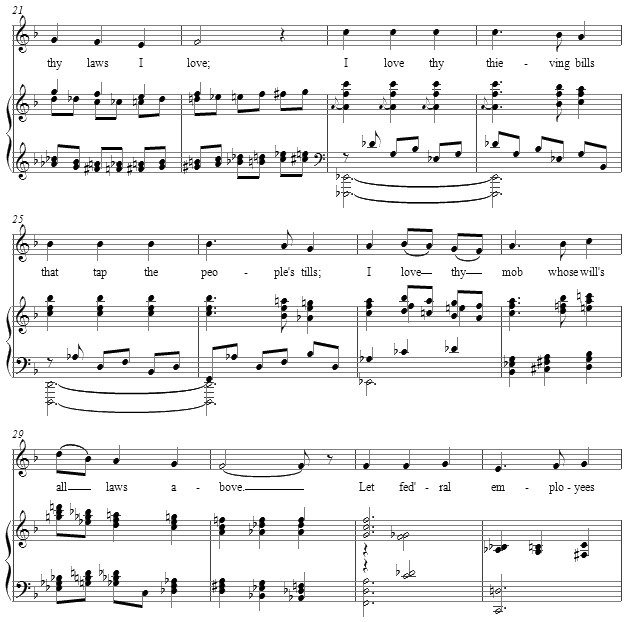 This setting, like Bierce's text, should remind us that government "by the people, of the people and for the people" has in each generation been subverted to the drives and urges of power brokers, the greedy who found public service an efficient road to personal wealth, and other "Americans" for whom the word American, in its highest sense, is a misuse and sacrilege.
The score for A Rational Anthem is available as a free PDF download, though any major commercial performance or recording of the work is prohibited without prior arrangement with the composer. Click on the graphic below for this piano-vocal score.