Alice - (2001-2013)
Adapted from Lewis Carroll by Gary Bachlund & Marilyn Barnett
After the stories of "Alice's Adventures in Wonderland" and "Through the Looking-Glass."
In two acts for eighteen soli (playing multiple parts) and chamber orchestra
---
FOREWORD
Our libretto to "Alice" has been drawn mostly from the Ur-texts of Lewis Carroll's classic stories, "Alice's Adventures in Wonderland" and "Through the Looking-Glass," as well as material drawn from other texts of Lewis Carroll. Marilyn Barnett and I have adapted the texts such as to make the episodic nature of the stories fit the stage, both books in two acts of a single opera. Because of the cast requirements, most of the players play one role in Act One, and another in Act Two.
We are certain that Charles Dodgson intended his works to become an opera. On 26 July, 1883, James Taylor (1833-1900) organist of New College, advised Dodgson to approach opera composer Sir Alexander Campbell Mackenzie (1847-1935) about setting the music to a dramatized Alice. This is the text of Dodgson's own letter: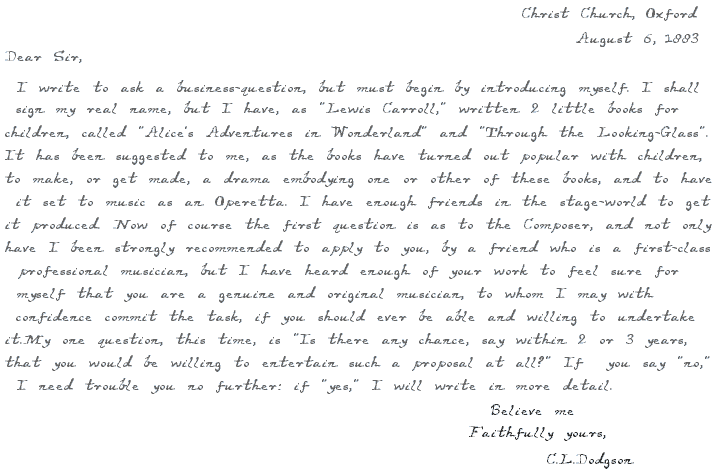 He got a favorable reply a week later from Mackenzie, then living in Florence, and began work on the libretto. By April of the following year he wrote to Mackenzie encouraging him to abandon the idea, as "dramatic construction being too clearly beyond powers."
An Opera or Operetta
Dodgson says specifically, "It has been suggested to me, as the books have turned out popular with children, to make, or get made, a drama embodying one or other of these books, and to have it set to music as an Operetta."
An "operetta," to cite Carroll's letter, was melodic in the sense of appealing to contemporary theater goers, written for classically trained singers, and essentially of a "light classical" character. Thus was this score also conceived.
A Libretto by Whom?
The significant difference between most other operatic settings of Lewis Carroll stories and our setting is the abiding respect which we have shown for the Ur-text.
Other settings often employ the poems but then create their own words for the scenes, rather than editing the original text. What need have we for yet another author writing his or her own version of such classic prose? One might claim the work to be by Lewis Carroll, but without his prose matching his poetry, such libretti are in fact new prose works, based on the scenes and stories but not respecting Carroll's written word.
As Dodgson says through his Humpty Dumpty, "The question is, which is to be the master - that's all." When a librettist for these tales writes his own prose, then that new librettist is the master, relegating Lewis Carroll to some lower position -- as the source of the stories, even of the poems, but replacing Carroll with a new author of a libretto.
We chose Lewis Carroll as our "master." We chose, as best we were able to edit down with deep respect the Ur-text into a reasonably sized libretto. Therefore we say with respect for the legendary author that this libretto is "Adapted from Lewis Carroll," for so indeed it is.
---

Marilyn Barnett
In 1992 Daniel Barenboim invited Marilyn Barnett (b. 1954) to join the ensemble of the Staatsoper Unter den Linden. Conductors whom she has assisted include Mr. Barenboim, Zubin Mehta, Michael Gielen, Donald Runnicles, Simone Young, Hans Wallat, Michael Boder, Janos Kulka, Sebastian Weigle, Phillipe Jordan, Fabio Luisi, Gerhard Samuel and Rene Jacobs.
Barnett has appeared as soloist with orchestras in the United States and Europe, notably the Staatskapelle in Berlin, and performed in concert with Ute Lemper.
She had previously served the Deutsche Oper am Rhein in Düsseldorf and the Stadttheater Aachen. Born in Charleston, South Carolina, she has studied piano, art song interpretation, accompanying, opera interpretation, organ, stage directing and conducting at Wesleyan College, American University, University of South Carolina earning her BM magna cum laude (1976), and her Master of Music from the College-Conservatory of Music, University of Cincinnati (1984), where she studied opera with Italo Tajo, accompanying with Robert Evans, and piano with Santos Ojeda. With CCM orchestras she was piano soloist in performances of Charles Ives's Fourth Symphony and Olivier Messiaen's Turânga-lila Symphony, both broadcast live over WGUC.
After completing her studies in Cincinnati she was selected to participate in the Merola Program of the San Francisco Opera which culminated in touring with the Western Opera Theater. She then received a Gramma Fisher scholarship to the American Institute of Musical Studies in Graz, Austria.
Since 1993 she has coached singers at the Hanns Eisler Hochschule für Musik in Berlin, in addition to guest engagements at the Salzburg Festival, Schwetzinger Festspiel, Wiener Festwochen, San Francisco Opera, and Graz Opera. In 2002 she spent five weeks in Japan with the Staatsoper's production of Der Ring des Nibelungen.